Are you making the most of your loft space? Transforming your loft into a functional and stylish bedroom requires careful planning, especially when it comes to dealing with those tricky angles and sloped ceilings. At Capital Bedrooms, a leading fitted wardrobe company based in London, we understand the unique challenges that loft conversions present. Our expert craftsmanship and innovative designs ensure that you maximise every inch of your loft, creating a beautiful and practical living space.
Loft Bedroom with Awkward Angles and Sloped Ceilings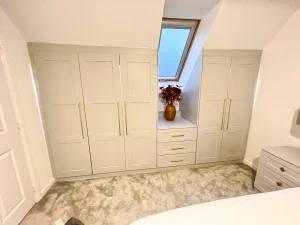 Turning an unconventional space into a comfortable bedroom is our speciality. Those awkward angles and sloped ceilings that often come with loft conversions can be seamlessly integrated into your design. Our team at Capital Bedrooms will carefully measure and craft bespoke fitted wardrobes that make the most of these unique features, giving you ample storage without sacrificing style.
An L-Shaped Loft Wardrobe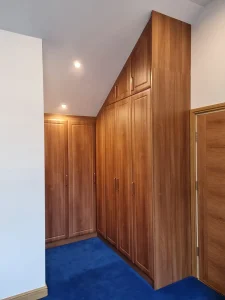 When space is at a premium, an L-shaped loft wardrobe is an ideal solution. This design makes use of the corners, ensuring that no area goes to waste. Our L-shaped fitted wardrobes offer a sophisticated look and ample room for hanging clothes, shelves, and even additional storage accessories.
Attic Wardrobe with Mirror Doors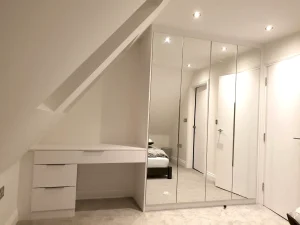 Mirror doors are a fantastic way to create a sense of openness in smaller spaces. They reflect light, making the room feel larger and more inviting. Our attic wardrobes with mirror doors not only serve as functional storage but also enhance the aesthetic appeal of your loft bedroom.
Loft Wardrobes with Chest of Drawers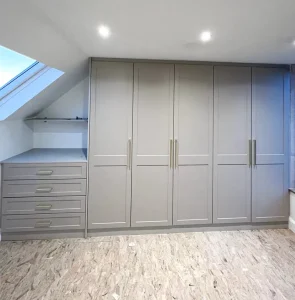 Combining wardrobe and drawer space is essential for a clutter-free bedroom. Our loft wardrobes with an integrated chest of drawers provide the perfect solution. You can keep your clothes neatly organised while having easy access to your belongings.
Loft Wardrobe with Study Table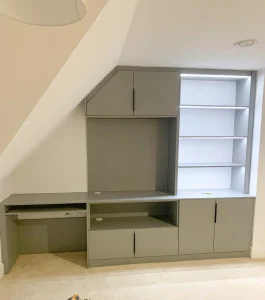 Make the most of your loft conversion by adding a study area to your fitted wardrobe design. Whether you're working from home or need a quiet space for studying, our loft wardrobes with built-in study tables offer a seamless blend of functionality and style.
Large Loft Fitted Wardrobe Under the Slope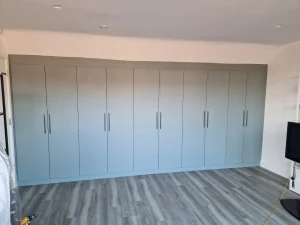 Utilising the space under the sloped ceiling is a smart storage hack. Our large loft fitted wardrobes are expertly designed to fit seamlessly under the slope, providing you with a generous amount of storage space while maintaining the aesthetics of the room.
Attic Wardrobe with Shelves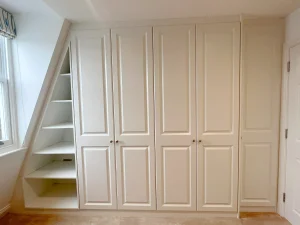 Customizable shelving solutions are essential for storing items of various sizes. Our attic wardrobes with shelves are tailored to your needs, ensuring you have the perfect spot for everything, from shoes and accessories to folded clothes and storage bins.
Attic Eaves Storage Ideas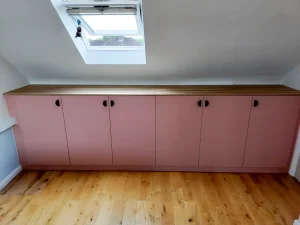 Eaves spaces often go unused, but they present excellent opportunities for storage. Our innovative attic eaves storage ideas make use of every nook and cranny, allowing you to tuck away items that would otherwise clutter your loft bedroom.
At Capital Bedrooms, we're committed to creating bespoke fitted wardrobes that cater to your loft conversion needs. Our expertise in designing and crafting functional yet aesthetically pleasing solutions sets us apart as the premier choice for fitted wardrobes in London. With a focus on quality and attention to detail, we transform your loft space into a dream bedroom that maximises storage and style.