Fitted Sliding Door Wardrobes
Space saving custom sliding doors wardrobe in London
Our sliding wardrobes are meticulously designed and tailored to meet your specific needs, style, and space requirements. With a focus on functionality and aesthetics, our high-quality sliding doors effortlessly glide to provide a luxurious touch.

Offering ample storage options without compromising on space, our custom sliding doors wardrobe combine the benefits of hinged doors with the convenience of sliding. Explore our finishes and discover how our sliding wardrobes can bring harmony and organization to your home.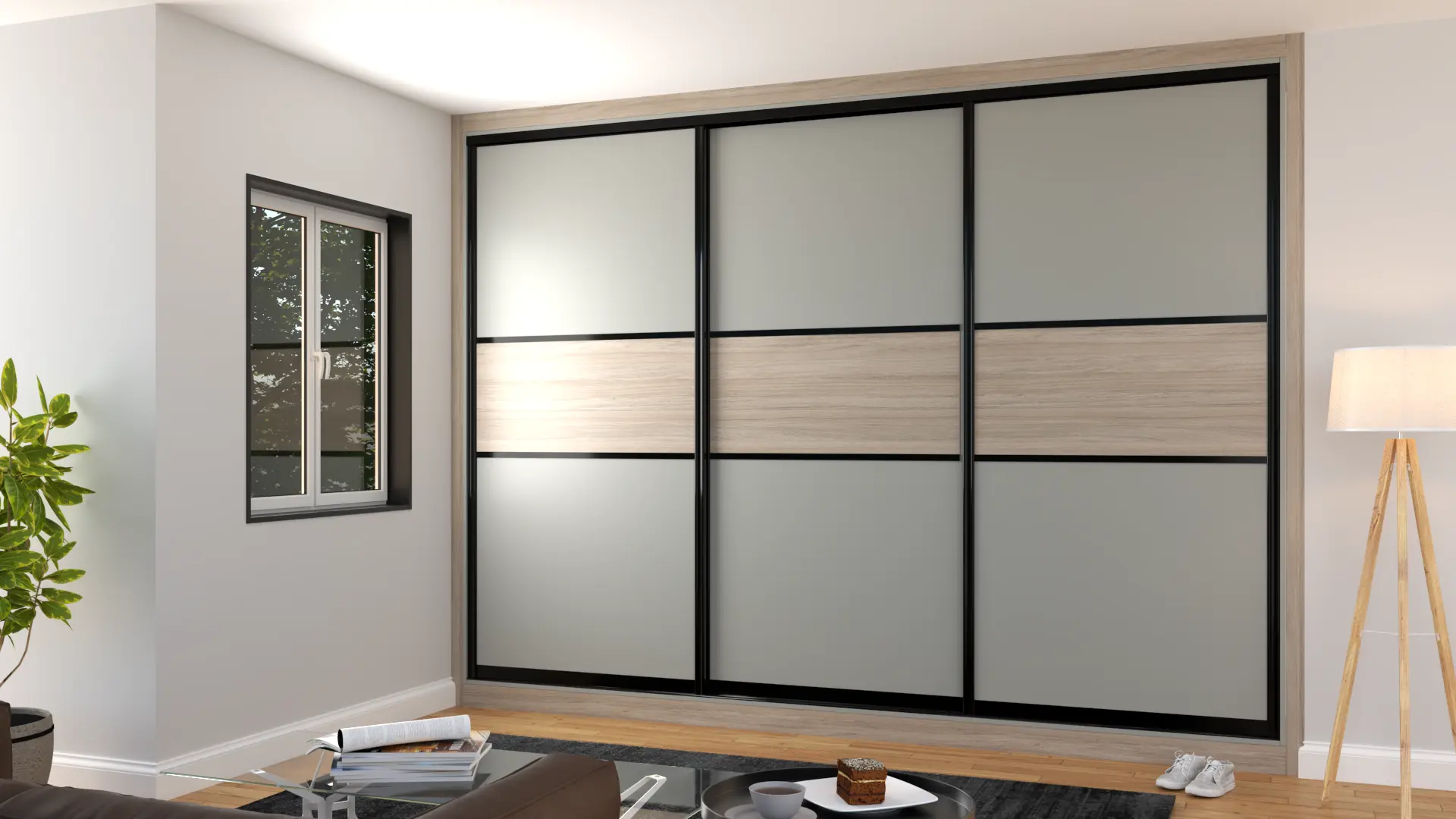 Floor-to-Ceiling Fitted Sliding Wardrobes for Modern Bedrooms
Struggling to find enough storage space in your bedroom? Love the idea of floor-to-ceiling wardrobes but limited on space? Capital Bedrooms has the perfect solution - our range of fitted sliding wardrobes.

Fitted sliding wardrobes are a modern and space-saving option to maximize your bedroom storage without compromising style. Choose sliding doors to enjoy a spacious wardrobe without the hassle of swinging doors consuming valuable floor space.

At Capital Bedrooms, we offer a wide range of fitted sliding wardrobes designed to suit any bedroom décor, whether sleek and contemporary or traditional. Available in various finishes, including wood, glass, and mirrored doors, our wardrobes create an illusion of space, making them a popular choice for smaller bedrooms.

Create a clutter-free and stylish environment in your bedroom with our modern floor-to-ceiling fitted sliding wardrobes. Contact Capital Bedrooms today and discover the benefits for yourself.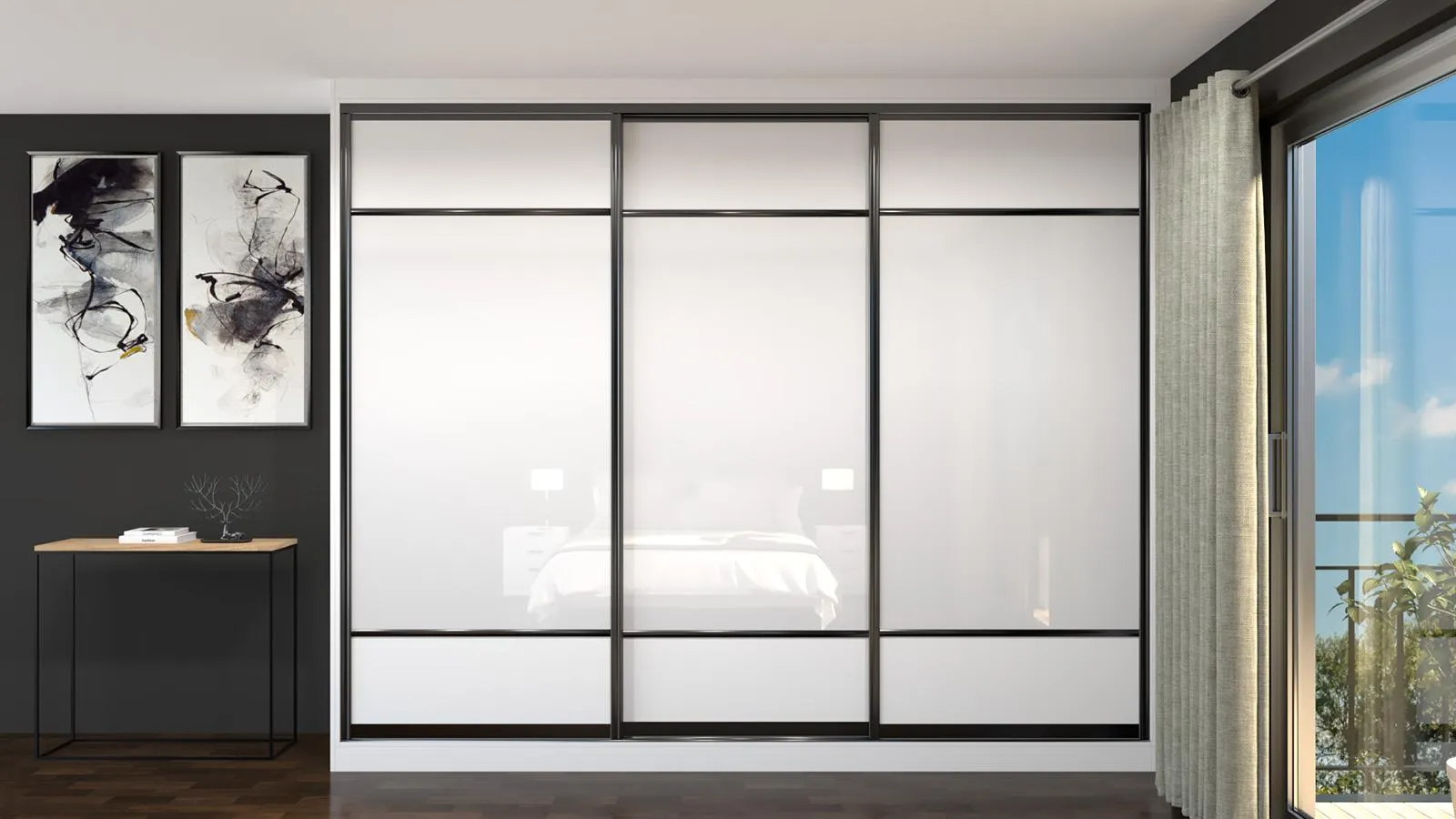 Fitted Sliding Doors
Showing all 5 results
Why Our Made to Measure Sliding Wardrobes
Sliding doors are particularly advantageous for narrower spaces, providing an elegant solution. By seamlessly integrating mirrors into the paneling, our fitted sliding wardrobes effortlessly maximize space utilization. Moreover, they create an illusion of expansiveness, making them an ideal choice for smaller rooms.

Capital Bedroom stands out as a leading expert in creating and installing tailor-made sliding wardrobes and sliding doors. Our bespoke sliding wardrobes are carefully crafted in our London's factory and are accompanied by a price guarantee, a complimentary home design consultation, a 10-year warranty, and the ability to be fully personalised to complement any style and accommodate rooms of any size.

If you're looking for glass wardrobe doors, mirrored wardrobe doors, or a wooden sliding door, our sliding wardrobe doors are a breeze to install and offer speedy, practical usability. Whether you have an alcove or open area to furnish, we can offer you sliding wardrobe doors and tailor-made fitted wardrobes that suit various sizes and depths, to enhance the aesthetic of any room.
Personalised to suit your style
Sliding wardrobe Door Style
When it comes to choosing sliding wardrobe door styles, our range is designed to maximize space utilization. Whether you have a loft with sloping eaves, impressive Georgian ceilings, or a quaint cottage, we have options that cater to your specific needs.

Our sliding doors are bespoke in function and offer an extensive range of glass, mirror, or wooden options to choose from, whether you prefer a detailed door or a plain and simple design. We have got you covered! You can pick a single style or mix and match along with coloured frames to create your ideal wardrobe with sliding doors. We specialize in built-in sliding wardrobes and can provide you with a range of options that cater to your needs. So, whether you're looking for a simple and elegant wardrobe with sliding doors or a more elaborate design, we have the perfect solution for you.
Book your design appoinment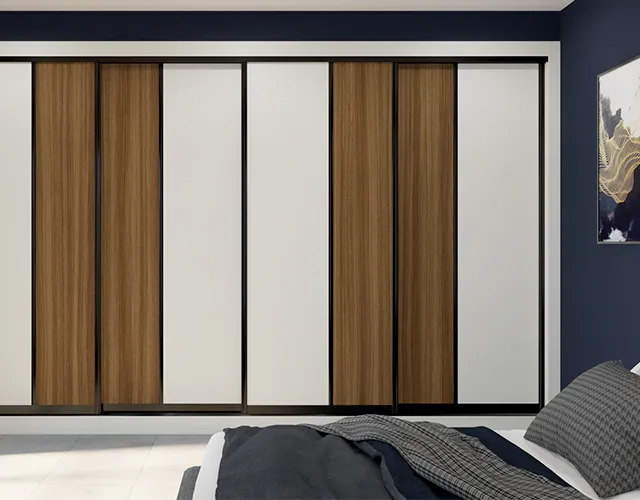 Fitted Sliding Doors Gallery
Frequently Asked Questions
Is sliding wardrobe costly?
It depends on various factors such as the size, material, and features of the wardrobe. Generally, sliding door wardrobes can be more expensive than regular hinged door wardrobes due to the added mechanism and hardware required for the sliding doors. However, sliding door wardrobe is best choice for small bedrooms.
Does sliding door wardrobe add a value?
A sliding door wardrobe can definitely add value to your home, especially if you're looking to create a modern and stylish look. It can also save space in your room as you don't need to leave extra room for the doors to swing open. Additionally, having a spacious and organized wardrobe can be an attractive feature for potential buyers if you plan to sell your home in the future.
How do you measure for sliding door wardrobes?
To measure for a sliding door wardrobe, you'll need to measure the width, height, and depth of the space where you want to install the wardrobe. Make sure to measure the width at the top, middle, and bottom of the space as it may not be perfectly level. You'll also need to consider any obstructions such as skirting boards or light switches.
What are Fitted Sliding Wardrobes?
Fitted sliding wardrobes are wardrobes that are specifically designed and built to fit the dimensions of your bedroom or dressing room. The sliding doors of these wardrobes are mounted on tracks that slide back and forth, allowing you to easily access your clothes and other items stored inside.

The three most important information to keep in mind about fitted sliding wardrobes are:

Customisable: Fitted sliding wardrobes are completely customisable to your specific needs and preferences. You can choose the size, colour, and finish of the wardrobe to match the décor of your room.

Space-saving: Fitted sliding wardrobes are ideal for rooms with limited space. Since they don't swing outwards like traditional wardrobes, they save a lot of floor space and make the room look more spacious.

Organised storage: Fitted sliding wardrobes come with a range of storage solutions such as shelves, drawers, and hanging rails, making it easy to organise your clothes and other items.
What are the advantages of Sliding Wardrobes in London?
Sliding wardrobes in London offer several advantages over traditional wardrobes.

The three most important advantages are:

Space-saving: Sliding wardrobes don't require a lot of floor space, so they are ideal for smaller rooms in London where space is at a premium.

Stylish: Sliding wardrobes are available in a range of styles and finishes, so you can choose one that complements the décor of your room.

Customisable: Sliding wardrobes can be customised to fit your specific needs and preferences, from the size and layout to the storage options.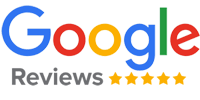 What Customer Says
Very fast and very good value. No complaints!
I used capital bedrooms recently for a fitted wardrobe with sliding doors, a study desk and cupboards either side of the chimney breast. The process from start to finish took about one month from design, order and to install. I worked with Mack on my designs who is very knowledgeable on the eggerboard product and makes really good use of space around the house. His sketches are helpful to visualise what youre thinking to install and he was happy to come out a few times to our house free of charge. Their factory in Wembley is worth a visit to see how their products look and to get a feel of their quality, which is definitely high end. Everyone there was nice to work with and it was only when I visited and saw the wardrobe that I really decided to go for their product. I was thinking of IKEA initially but with the flexibility and quality of the fitted furniture they provide, I was happy to spend more. I would suggest that the documentation of designs once finalised couldve been more accurate but this didn't matter much in my case because Mack had all the requirements, was very flexible and is happy to amend things where possible. The fitters did a good job but need to make sure they have everything before coming. Overall I'm happy with their service and work definitely recommend Mack from capital bedrooms and their products! I really like the idea of being able to google a product and having these guys design and build it to how i like!
M. Fawad Ansari
2018-01-28
Excellent work. Brilliant and professional job, to the requirements. High standard job for reasonable price. Remember, these guys use agre finished decorative panels all around which most others dont do.
The service we got from Mack and everyone at Capital was completely excellent, both on quality and price. They blew away the competition (your Spacemakers, Sharps etc) and I've been recommending them to friends and family ever since.
We're very pleased with our wardrobes from Capital Bedrooms. They have a unique range of beautiful finishes to choose from. They are always very polite and courteous in their dealings with customers, and offer good advice. I would recommend that you give them a try.