WALK-IN WARDROBES
Transform Your Space with Style and Functionality
Create the perfect walk-in wardrobe of your dreams with our bespoke solutions. Explore a range of walk-in wardrobe ideas and designs, including built-in wardrobes around your bed. Whether you have limited space or a grand room, Capital Bedrooms crafts bespoke built-in wardrobes that seamlessly blend functionality and opulent style. Experience luxury redefined for your home.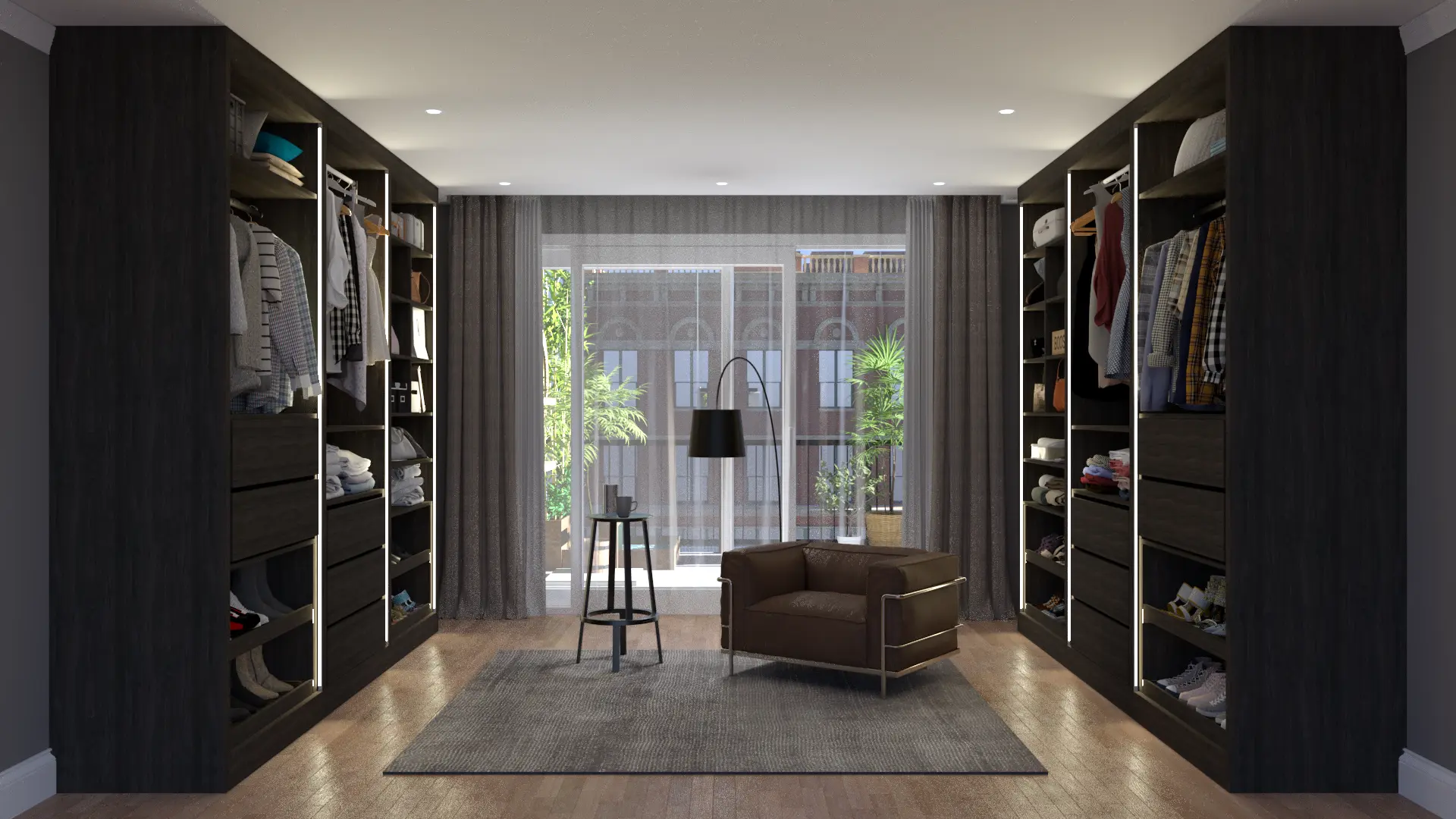 Transform Your Space with a Luxurious Walk-in Wardrobe by Capital Bedrooms
Imagine a stunning and spacious walk-in wardrobe that perfectly reflects your style and personality. At Capital Bedrooms, our expert designers excel at turning even the most challenging spaces into functional and exquisite storage solutions.

From lavish and grand designs to cosy and compact setups, we bring your vision to life. Bid farewell to wasted space and embrace seamless design. With our years of experience and a passion for the extraordinary, we'll create a tailor-made wardrobe solution just for you.

Don't wait any longer - book a free home design visit with our skilled designers and experience the remarkable difference a walk-in wardrobe can make.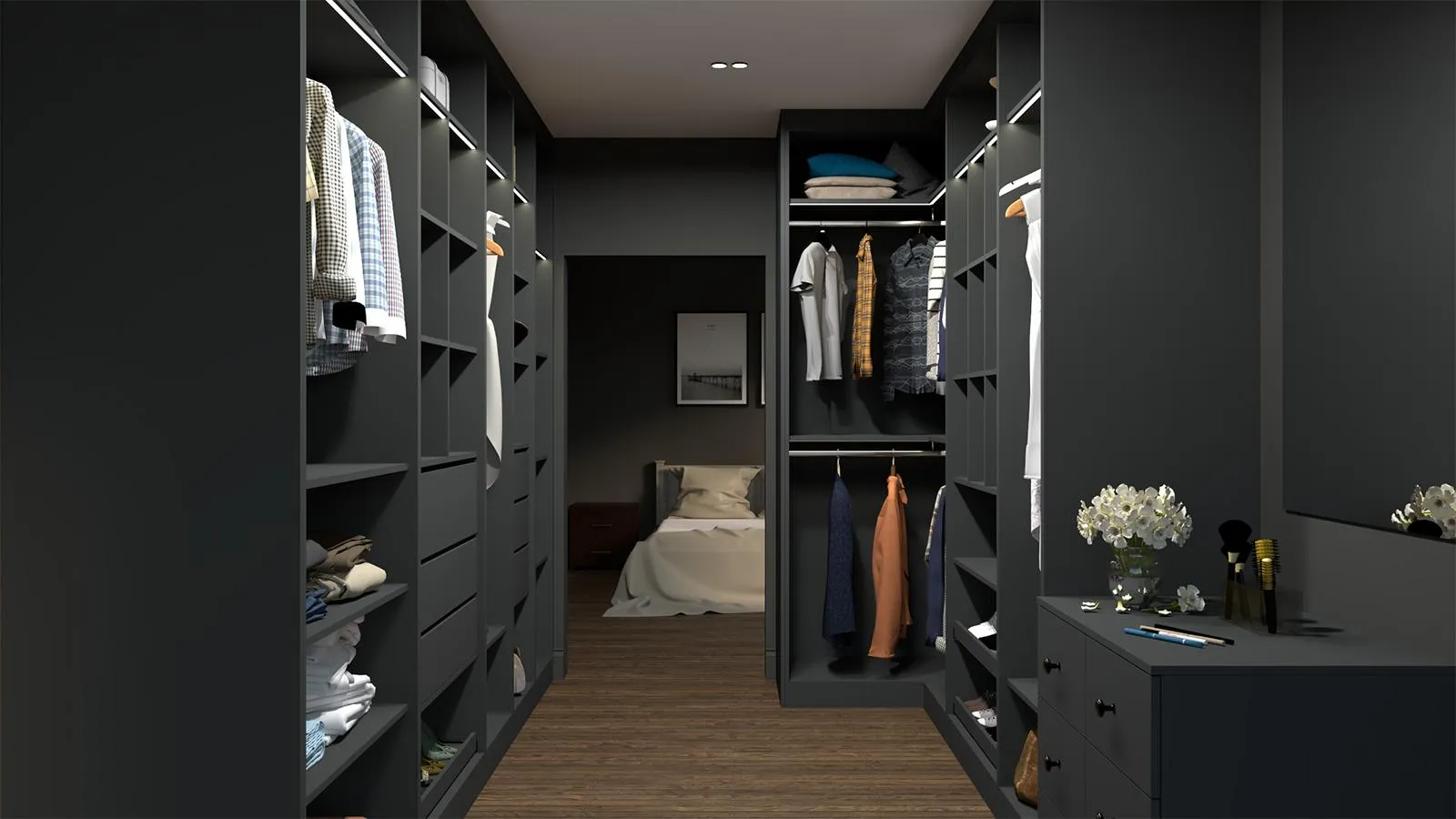 Walkin Wardrobes
Showing all 3 results
Unlimited Storage Solutions for Your Walk-in Wardrobes
Discover a world of storage possibilities with our comprehensive range of walk-in wardrobe solutions. From trousers hanging and cosmetic units to pull-out shoe racks and counter-balance hanging rails, we cater to your every storage need. With a completely personalized interior and exterior design, your walk-in wardrobe will reflect your unique style.

Whether it's a small walk-in wardrobe, a built-in corner wardrobe, or a luxurious dressing room, our storage options will ensure optimal organization and functionality. Experience the convenience of a perfectly tailored walk-in wardrobe storage solution.
Walk-in wardrobes furniture
Dressing Room Furniture
Experience the joy of having your own elegant dressing room or walk-in wardrobe design. Imagine a dedicated space to organize your outfits and accessories, tailored to your needs. With ample space, consider a fully fitted changing room with stylish and functional furniture, including floor-to-ceiling wardrobes, double hanging rails, and various storage options.

Dressing rooms can be both opulent and practical, featuring storage islands with coordinated seating and built-in dressing tables with mirrors. Let us bring your dressing room ideas to life with our range of dressing room furniture and designs, including options for small dressing rooms.
Book your design appoinment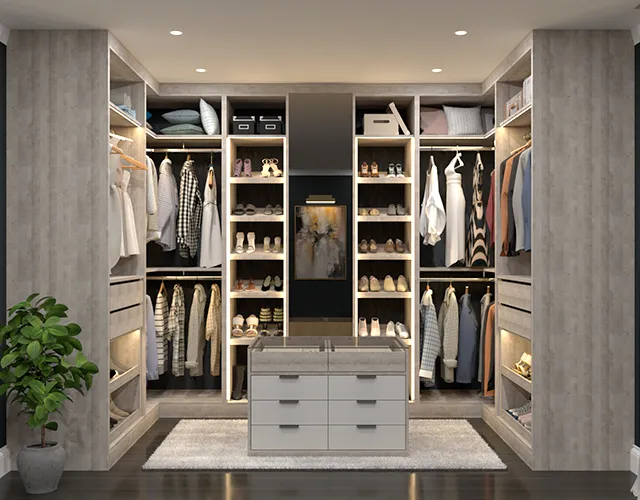 Frequently Asked Questions
How much does it cost to build walk-in wardrobe london?
Building a walk-in wardrobe in London can cost anywhere from a few thousand pounds to tens of thousands of pounds, depending on various factors.

1. Size and complexity of the wardrobe design

2. Materials used for construction and finishes

3. The level of customization and fittings required

The following are the top three things to remember:

• A basic, standard-sized walk-in wardrobe in London can cost around £3,500 to £5,000, excluding the cost of materials.

• If you want a more elaborate or customized design with luxury fittings and finishes, the cost can rise to £10,000 to £20,000 or more.

• It is important to get a detailed quote from a professional builder or wardrobe company that includes all the costs, such as labour, materials, and any additional expenses, to avoid any surprises later on.
What is the best way to organise a walk in wardrobe?
A well-organized walk-in wardrobe can help you save time, reduce stress, and keep your clothes and accessories in good condition. Here are some tips on how to organize your walk-in wardrobe:

• Categorize your clothes by type and color

• Use storage solutions such as drawers, pull out shoes rack, and pull down hanging rails Arrange the things you frequently use at a level that is easy to see.
What is Walk-in Wardrobe?
A walk-in wardrobe, also known as a dressing room, is a large storage area typically attached to a bedroom or ensuite bathroom. It is designed to provide ample space for storing clothes, shoes, and accessories, and usually includes features such as hanging rails, shelving, and drawers.

The following are the top three key points to bear in mind:

• A walk-in wardrobe is typically larger than a regular closet and can be customized to suit individual needs and preferences.

• It can be a luxurious addition to a bedroom or dressing area, and can add value to a property.

• Walk-in wardrobes are often designed to be practical and efficient, with features such as lighting and mirrors to aid with dressing and styling.
What is fitted dressing room?
A fitted dressing room is a customized storage area that is designed to fit a specific space and cater to individual needs and preferences. It is typically built-in and fitted with shelves, drawers, and hanging rails, and may also include features such as mirrors and lighting.

The following are the three most crucial points to keep in mind:

• A fitted dressing room is a highly customizable solution that can be tailored to individual requirements.

• It is often more expensive than a standard walk-in wardrobe or closet, but can offer greater storage capacity and efficiency.

• A professional wardrobe company or builder can help with the design and installation of a fitted dressing room to ensure that it meets your needs and budget.
How much space is required for a walk in wardrobe?
The amount of space required for a walk-in wardrobe can vary depending on individual needs and the available space. However, there are some general guidelines that can help determine the minimum space required:

• A minimum depth of 1.5 metres is required to accommodate hanging clothes and shelves.

• A minimum width of 1.8 metres is necessary to allow for enough space to move around and access items.

• A minimum ceiling height of 2.4 metres is recommended to provide enough headroom and allow for the installation of features such as lighting and storage solutions.

It is important to note that these are minimum requirements, and the ideal size of a walk-in wardrobe will depend on individual needs and preferences. It is recommended to work with a professional wardrobe company or builder to ensure that the space is designed and constructed to meet your requirements.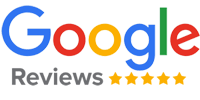 What Customer Says
Very fast and very good value. No complaints!
I used capital bedrooms recently for a fitted wardrobe with sliding doors, a study desk and cupboards either side of the chimney breast. The process from start to finish took about one month from design, order and to install. I worked with Mack on my designs who is very knowledgeable on the eggerboard product and makes really good use of space around the house. His sketches are helpful to visualise what youre thinking to install and he was happy to come out a few times to our house free of charge. Their factory in Wembley is worth a visit to see how their products look and to get a feel of their quality, which is definitely high end. Everyone there was nice to work with and it was only when I visited and saw the wardrobe that I really decided to go for their product. I was thinking of IKEA initially but with the flexibility and quality of the fitted furniture they provide, I was happy to spend more. I would suggest that the documentation of designs once finalised couldve been more accurate but this didn't matter much in my case because Mack had all the requirements, was very flexible and is happy to amend things where possible. The fitters did a good job but need to make sure they have everything before coming. Overall I'm happy with their service and work definitely recommend Mack from capital bedrooms and their products! I really like the idea of being able to google a product and having these guys design and build it to how i like!
M. Fawad Ansari
2018-01-28
Excellent work. Brilliant and professional job, to the requirements. High standard job for reasonable price. Remember, these guys use agre finished decorative panels all around which most others dont do.
The service we got from Mack and everyone at Capital was completely excellent, both on quality and price. They blew away the competition (your Spacemakers, Sharps etc) and I've been recommending them to friends and family ever since.
We're very pleased with our wardrobes from Capital Bedrooms. They have a unique range of beautiful finishes to choose from. They are always very polite and courteous in their dealings with customers, and offer good advice. I would recommend that you give them a try.