Fitted Kitchens
Affordable and Luxury Fitted Kitchens in London
Create the perfect kitchen with Capital Bedrooms. As London's top kitchen manufacturer, we offer affordable luxury fitted kitchens in various styles and colours.
From classic to contemporary, we have the perfect shade to match your personality. Choose sleek, handleless cabinets for an ultra-modern look or timeless shaker kitchens for a traditional feel. Our expert kitchen consultants are ready to assist you.
Make your dream kitchen a reality with a free home design visit. Contact us today and let us help you discover the perfect layout for your kitchen, the heart of your home.
How it works
Bring your dream kitchen to life effortlessly. Visit our showroom or book a free design visit with our expert designers to explore your ideas. From style and function to budget, our team will guide you to make informed decisions.
Once you've chosen your preferred style, our skilled kitchen planners will create a tailored design. We'll optimize space and ensure your vision is realized. After design approval, we'll order and install your kitchen, taking care of everything.
Enjoy added peace of mind with our impressive guarantees. Trust us for impartial advice and support throughout the process. Let's make your dream kitchen a reality.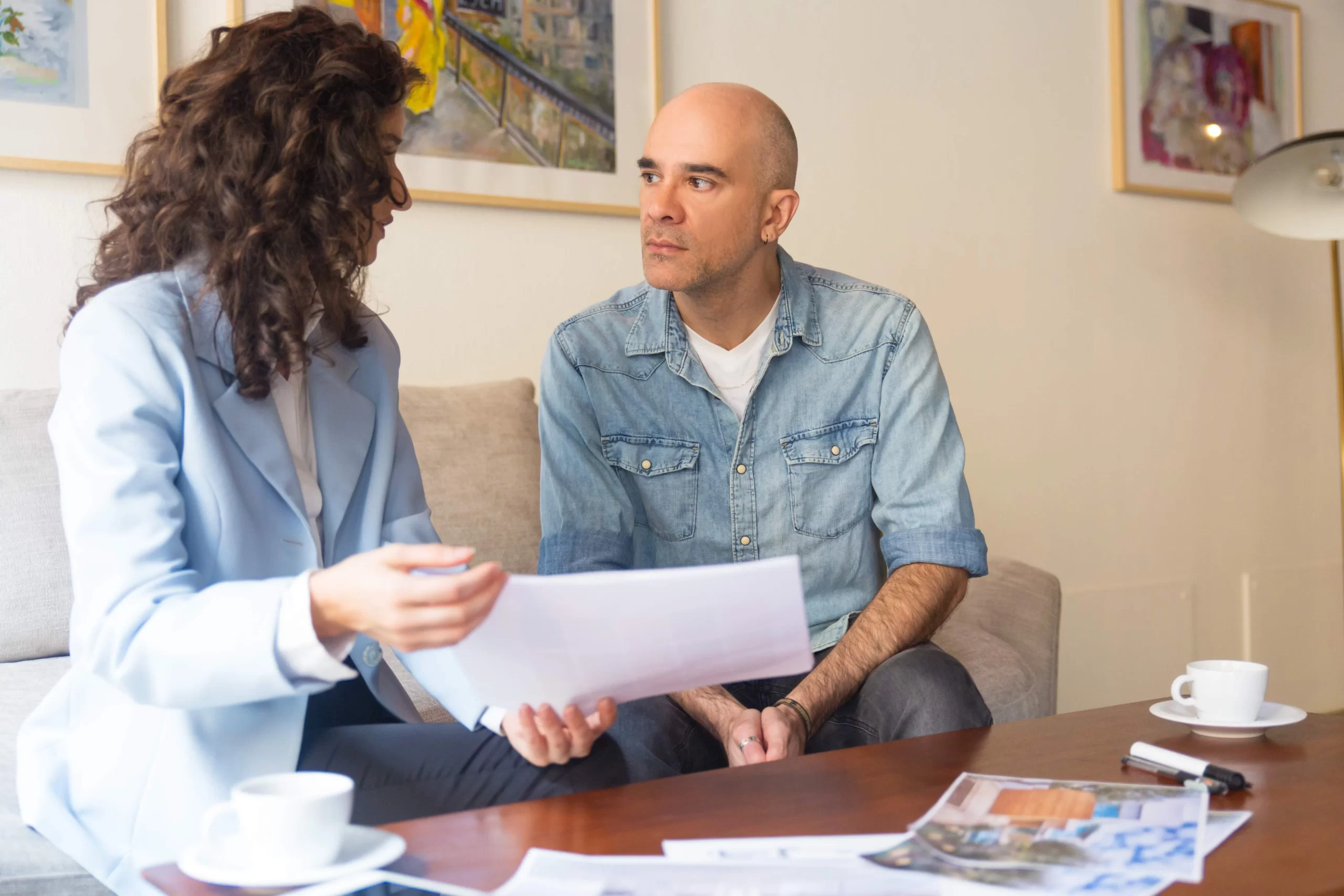 Fitted Kitchen Storage Solutions
Maximize your kitchen's storage potential with fitted storage units. Whether its shelves, drawers, or discreet cabinets, choose options that suit your style. Enhance accessibility with pull-out drawers and utilize corner cupboards. Custom-fit solutions cater to any layout.
With the right storage, your kitchen becomes a functional and organized space to enjoy cooking and quality time with loved ones. Capital Bedrooms offers a range of storage options to suit your needs.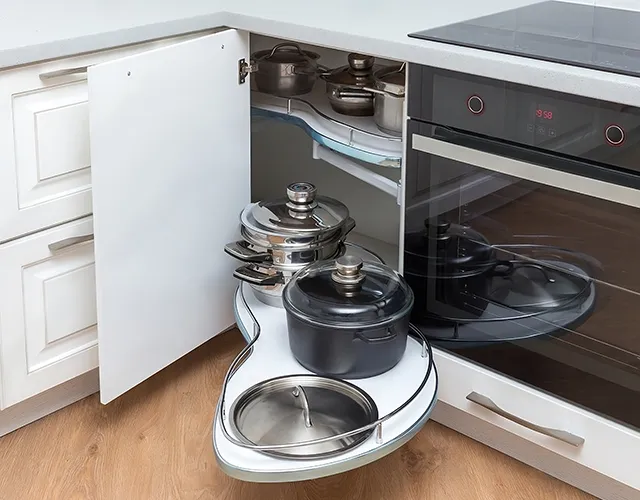 Organise every awkward spot
Kitchen corner storage
Utilising the often-overlooked corners in your kitchen can significantly enhance its functionality. By incorporating corner storage units, you can effectively make the most of u-shaped layouts or multi-walled setups, optimising the available space. An excellent solution for compact areas, these units can be customised with accessories to facilitate accessing items stored at the back.
These accessories are equipped with pull-out compartments or rotating shelves, streamlining the retrieval of pans and utensils. With various width options available to suit any room size, this versatile choice seamlessly integrates behind door fronts, blending harmoniously with minimalist designs.
Extra level of organisation
Kitchen drawer storage
Discover the perfect solution for storing kitchen tools and equipment with drawer storage solutions. Designed for the modern kitchen, these drawers offer designated slots for scissors, pizza slicers, cutlery, and spatulas, along with practical storage accessories. By incorporating storage drawers into your cupboards, you'll achieve a clutter-free environment with a clear view of your contents.
These rail-mounted drawers provide additional storage space and a systematic approach to managing supplies. With various configurations and stylish fronts, they effortlessly blend with any minimalist aesthetic. Experience the convenience and style of drawer storage solutions in your kitchen today.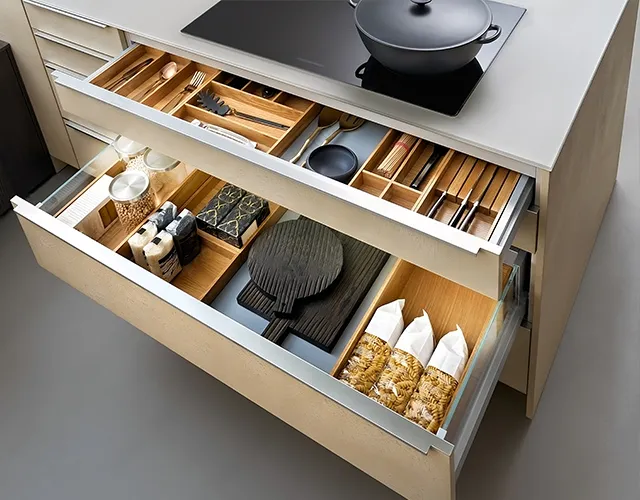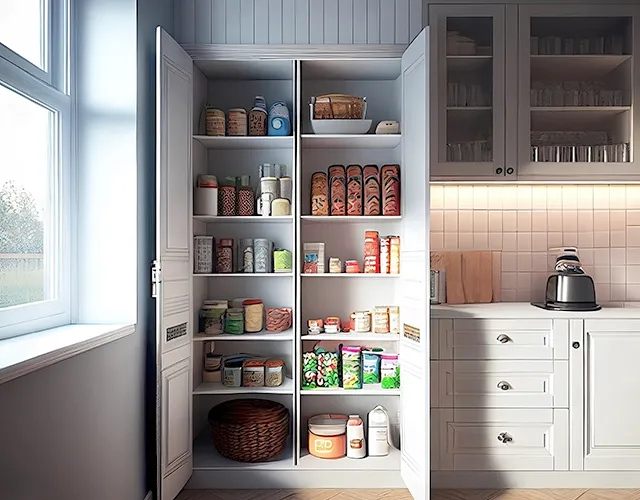 Providing storage and practicality
Kitchen cabinet or larder
Our kitchen cabinet storage solutions are designed with both functionality and organisation in mind. Our innovative accessories make it easy to access items without excessive stretching, while our shelving units offer impeccable organisation for a variety of grocery items. Our pull-out storage options help optimise space utilisation, making them particularly useful in compact settings.
Our in-cabinet storage solutions can be customised to cater to your specific needs, maximising available space. Our pantry or larder options are versatile, elegant, and practical. Incorporating hooks and built-in spice racks ensures easy accessibility and efficient organisation. Embrace the brilliance of our kitchen storage solutions and unlock the hidden potential of your culinary sanctuary.
Easier, safer and quicker
Kitchen bins & recycling
Maintaining cleanliness and hygiene in communal spaces is crucial, and the kitchen bin plays a significant role in achieving this. When choosing a bin, factors such as the number of compartments, style, and location should be considered. Multiple-compartment bins make sorting easy, making kitchen recycling bins a convenient way to store waste.
There are various options available in terms of sizes, capacities, and styles, ranging from free-standing to concealed storage within cabinetry. Pull-out bins are ideal for families with different generations, while integrated bins are perfect for modern kitchens. Choose a bin that suits your needs and enhances your communal space's aesthetics, keeping it tidy and welcoming.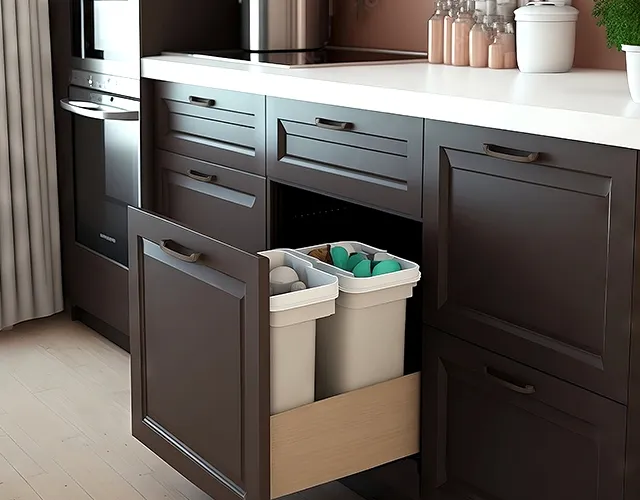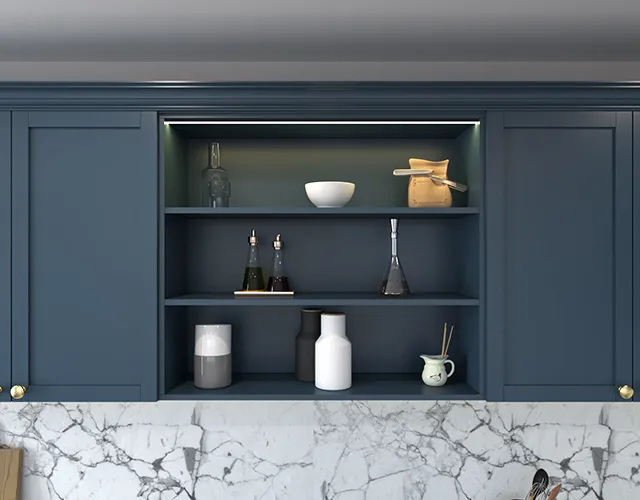 Tailored To You
Kitchen wall storage
Maximise your kitchen space with wall storage! Don't let the lack of cabinets and drawers limit your storage options when you can create a solution with wall storage. Shelves can add style and organisation to your kitchen, accommodating kitchen accessories, pots, and pans.
Wall storage not only keeps essentials close at hand, but it also frees up valuable floor space, making it ideal for households with young family members. Adjustable shelving allows for a bespoke configuration to match different storage needs, while pull-down accessories make accessing items at the top of a cupboard a breeze.
Mix up the textures and heights of your wall storage to create the illusion of more space, and add a touch of sophistication with clear or frosted glass frontages to display decorative items.
Clever storage system
Under sink drawer storage
Make the most of unused space with an under-sink drawer—a genius solution for valuable storage. Imagine having a dedicated spot beneath your sink to neatly store essentials like washing-up liquid, scrubbing brushes, and rubber gloves while maintaining a clutter-free sink area.
This clever storage system fits seamlessly around pipework, utilising every inch of available space. It's not limited to kitchen supplies but can also include house cleaning equipment or a well-stocked first aid kit. With everything organised, there's no more rummaging through cluttered cabinets.
Utilise the shallow space for recycling or trash, keeping the room tidy. A drawer option maximises space and ensures easy organisation. Add value and practicality to your kitchen with this underrated storage solution.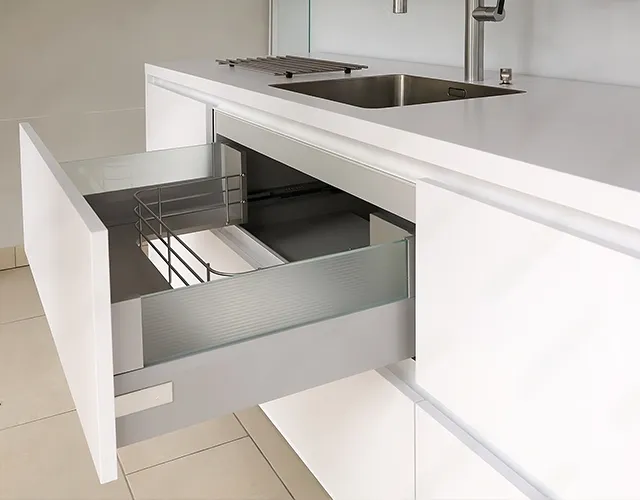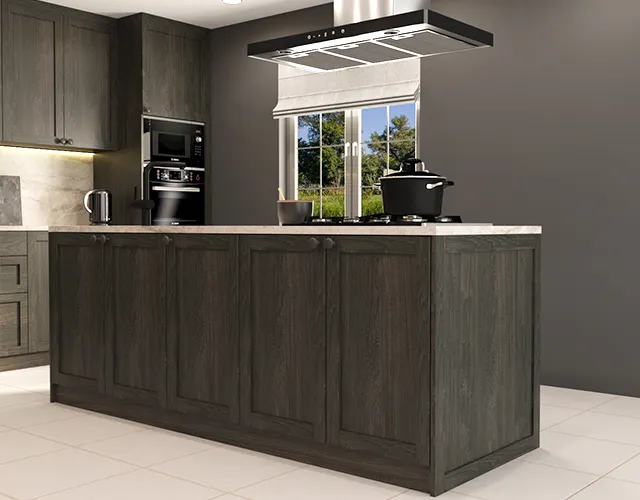 Made-to-measure
Kitchen Island
A kitchen island is a multitasking marvel, adding functionality and style to your kitchen. It provides extra worktop and storage space in one sleek package. With drawers and cupboards cleverly concealed beneath a smooth worktop, you can keep your kitchen accessories organised without cluttering your countertops.
But it doesn't stop there! Add barstools, and the island becomes a versatile space for food preparation, quick breakfasts, or a comfortable workstation. Our storage solutions create space you never thought possible, making even compact kitchens feel spacious and organised. From pull-down open shelving to hidden plinth storage, we've got you covered. Embrace the culinary possibilities, declutter your kitchen, and enjoy a seamless blend of functionality and elegance with our island storage solutions.
People Also Ask
How long does it take to install a fitted kitchen?
The duration required to install a fitted kitchen is dependent on various factors, including the size of the kitchen, design complexity, and installer proficiency. On average, a simple fitted kitchen can be installed within a few days, while more complex designs may require a week or more.
How can I make the most of a small kitchen space when choosing a fitted kitchen?
To make the most of a small kitchen space when choosing a fitted kitchen, you should focus on maximizing storage and counter space. This can be achieved through the use of space-saving features like pull-out pantry shelves, corner cabinets, and built-in appliances. You may also want to consider using light colors and reflective surfaces to make the space feel more open and airy.
What are the most popular colours and styles for fitted kitchens in London?
The most popular colours and styles for fitted kitchens in London vary depending on current trends and individual preferences. However, some popular styles include modern, minimalist designs with sleek lines and monochromatic color schemes, as well as more traditional designs with warm wood finishes and intricate details. Popular colors include white, grey, black, and navy blue.
What are the benefits of choosing a fitted kitchen over a freestanding one?
The benefits of choosing a fitted kitchen over a freestanding one include better organization and use of space, as well as a sleek, cohesive look to your kitchen. With a fitted kitchen, you can customize the design to fit your specific needs and preferences, and you can also choose materials and finishes that match the overall aesthetic of your home.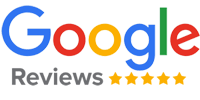 What Customer Says
Very fast and very good value. No complaints!
I used capital bedrooms recently for a fitted wardrobe with sliding doors, a study desk and cupboards either side of the chimney breast. The process from start to finish took about one month from design, order and to install. I worked with Mack on my designs who is very knowledgeable on the eggerboard product and makes really good use of space around the house. His sketches are helpful to visualise what youre thinking to install and he was happy to come out a few times to our house free of charge. Their factory in Wembley is worth a visit to see how their products look and to get a feel of their quality, which is definitely high end. Everyone there was nice to work with and it was only when I visited and saw the wardrobe that I really decided to go for their product. I was thinking of IKEA initially but with the flexibility and quality of the fitted furniture they provide, I was happy to spend more. I would suggest that the documentation of designs once finalised couldve been more accurate but this didn't matter much in my case because Mack had all the requirements, was very flexible and is happy to amend things where possible. The fitters did a good job but need to make sure they have everything before coming. Overall I'm happy with their service and work definitely recommend Mack from capital bedrooms and their products! I really like the idea of being able to google a product and having these guys design and build it to how i like!
M. Fawad Ansari
2018-01-28
Excellent work. Brilliant and professional job, to the requirements. High standard job for reasonable price. Remember, these guys use agre finished decorative panels all around which most others dont do.
The service we got from Mack and everyone at Capital was completely excellent, both on quality and price. They blew away the competition (your Spacemakers, Sharps etc) and I've been recommending them to friends and family ever since.
We're very pleased with our wardrobes from Capital Bedrooms. They have a unique range of beautiful finishes to choose from. They are always very polite and courteous in their dealings with customers, and offer good advice. I would recommend that you give them a try.